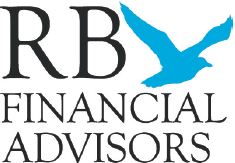 We believe that everyone needs a sound financial plan that will provide reassurance.
Your financial independence is our business.
At RB Financial Advisors, we will help identify your goals and develop a realistic
financial plan tailored to your individual needs that will help you meet these goals now and well into the future.

We pride ourselves on our diverse financial experience and responsive service. From retirement planning to insurance needs to college funding, we're committed to helping you meet your current and long-term financial objectives. Together we can implement financial planning tools to help you meet these objectives.
Visit our

Learning Center

for articles, newsletters and E-seminars on a wide array of financial planning topics.

As policyholders age, life insurance could help supplement retirement income, support a surviving spouse, and/or leave a legacy.

Do you know the differences between debit and credit cards? This article discusses both and when it might be better to use a credit card.

A look at the economic conditions that triggered the 2020 bear market and why investors may benefit from having a longer-term perspective.

More than half of 401(k) participants invest in target-date funds, but are they right for everyone? This article provides an overview.
Compare the potential future value of tax-deferred investments to that of taxable investments.

Use this calculator to determine whether you qualify for the different types of IRAs.

How much can you afford to pay for a car?

Will you be able to afford nursing home care?