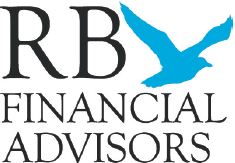 We believe that everyone needs a sound financial plan that will provide reassurance.
Your financial independence is our business.
At RB Financial Advisors, we will help identify your goals and develop a realistic
financial plan tailored to your individual needs that will help you meet these goals now and well into the future.

We pride ourselves on our diverse financial experience and responsive service. From retirement planning to insurance needs to college funding, we're committed to helping you meet your current and long-term financial objectives. Together we can implement financial planning tools to help you meet these objectives.
Visit our

Learning Center

for articles, newsletters and E-seminars on a wide array of financial planning topics.

Even if you and your spouse have separate retirement accounts, you may still be able to craft a unified savings and investment strategy.

Small-business owners should watch for trade policy changes that could impact their products, supply chains, or competitors.

See three options that may help you bridge the health insurance coverage gap between retirement and Medicare eligibility.

Find out whether a testamentary trust, living trust, or special-purpose trust can benefit your family.
How much do you need to save each year to meet your long-term financial goals?

Estimate how much would remain after paying income taxes and penalties if you took an early distribution from a retirement plan.

Will you be able to afford nursing home care?

Is your personal inflation rate higher or lower than the CPI?